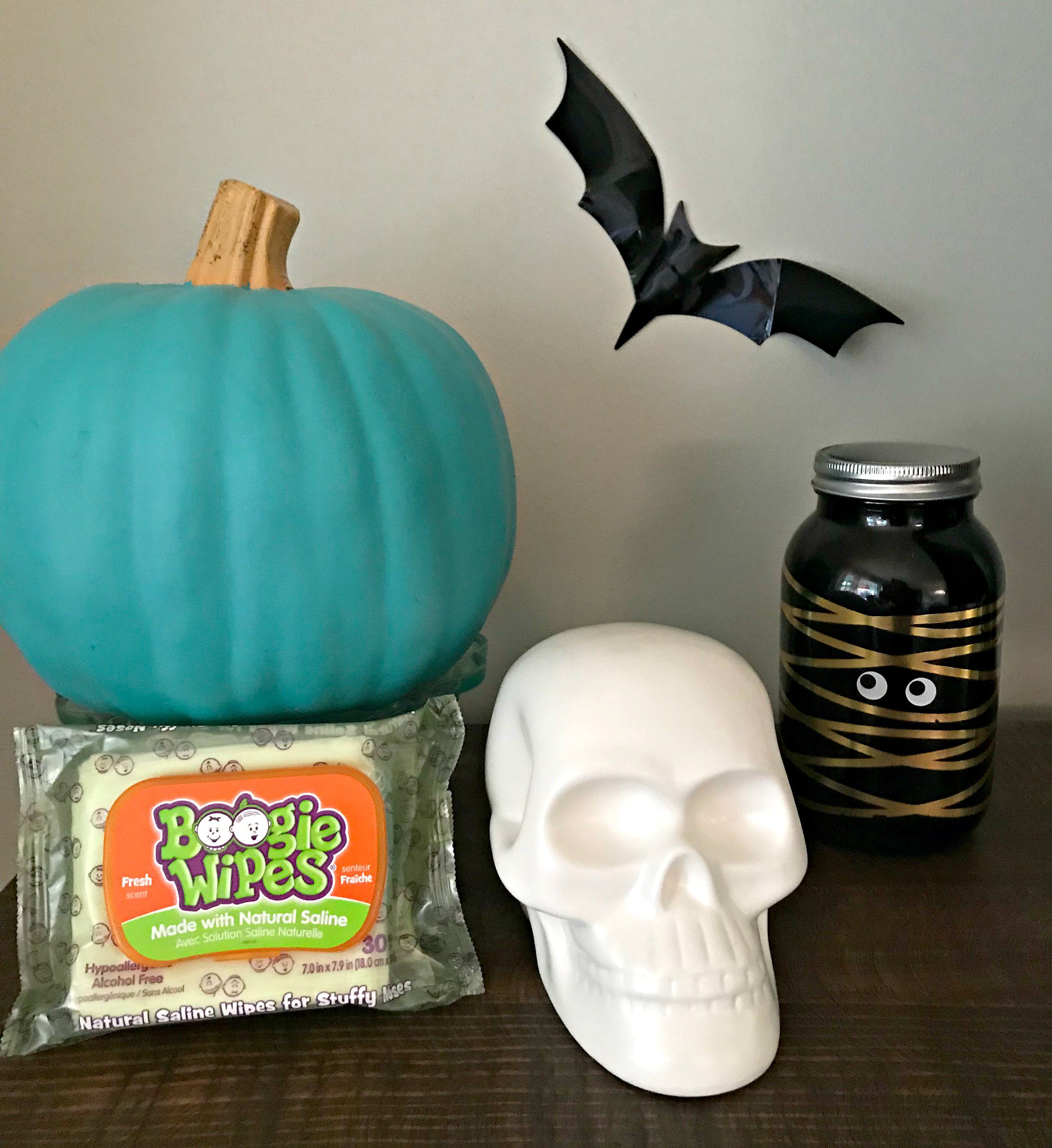 Celebrating Halloween with Food Allergies
When you have kids with food allergies, Halloween can be even scarier than normal. We're a small team at Boogie Wipes®, and we're all parents. With two "Boogie Kids" with food allergies, we understand how hard Halloween can be when there are food allergies in the family.
With the help of several "allergy moms" and a lot of coaching from pediatric allergists, we're sharing some of the Halloween tips and tricks that make Halloween fun – even if you have a child with food allergies.
Tips for Trick or Treating
Talk to your child and set expectations in advance
Before you go trick-or-treating, have a talk with your child to go through safety tips and to remind them that they won't be able to eat all of their candy. Make sure your child knows that he or she is not allowed to eat any of their candy while you're trick-or-treating, and that you will go through their candy with them at the end of the night to find out what's safe to eat.
Do your research
Before approving any candy, be sure to read labels to make sure it's safe. If ingredients are not listed on the labels, check the company's website, or look for a customer service number. Some candy that is safe in full-size packaging may not be safe in the mini version, so always double check.
Have pre-approved candy ready to go
Before Halloween night, try to find some candy options that are safe for your child and bring them with you while you're trick-or-treating. When the other kids are sampling from their bags, your child can enjoy some candy too. At the very least, you can swap the "bad candy" from their bag with the "safe candy" after trick-or-treating is over.
Give "safe candy" to your neighbors in advance
If your child's allergies are severe enough, give safe candy or treats to your neighbors ahead of time. Your child can still experience the joy of trick-or-treating, and your neighbors don't have to go to any extra trouble.
Carry your meds
Even though you've had a talk with your child, and they know not to eat any candy without showing you first, you'll still want to bring your epinephrine injector with you while trick-or-treating.
Look for the Teal Pumpkin
The Teal Pumpkin Project raises awareness of food allergies and promotes inclusion of all trick-or-treaters throughout the Halloween season. By placing a teal pumpkin on your front porch, you let trick-or-treaters know that you have non-food treats available.
You can click here to learn more and to download your free printable sign. You'll also find great tips for educating your friends, family and neighbors on the importance of offering non-food treats on Halloween night.
Halloween Fun at Home
Trick-or-treating not an option? You can still have lots of Halloween fun at home!
Trick or Treat in the house
Set up trick-or-treating stations in your house. Get dressed up and have your child knock on various bedroom and bathroom doors to get special treats.
Play Games on Halloween
After you're finished trick-or-treating inside, you can play Halloween games instead of eating candy. From spider web walking to pumpkin bowling, click here for 30 Halloween games to play with your kids.
Make Halloween-themed food
It doesn't all have to be about the candy. Arrange the pepperoni on your pizza to make a pumpkin face, toss plastic spiders in the salad or tell the kids the spaghetti is really brains. Get creative and make a Halloween "feast" to add to the fun.
Supporting Kids with Food Allergies
In honor of all of our Boogie parents who are navigating Halloween with kids with food allergies, Boogie Wipes® has made a donation to the Teal Pumpkin Project.
Click here to learn more about how to make Halloween a little less scary and a whole lot more fun for kids with food allergies.