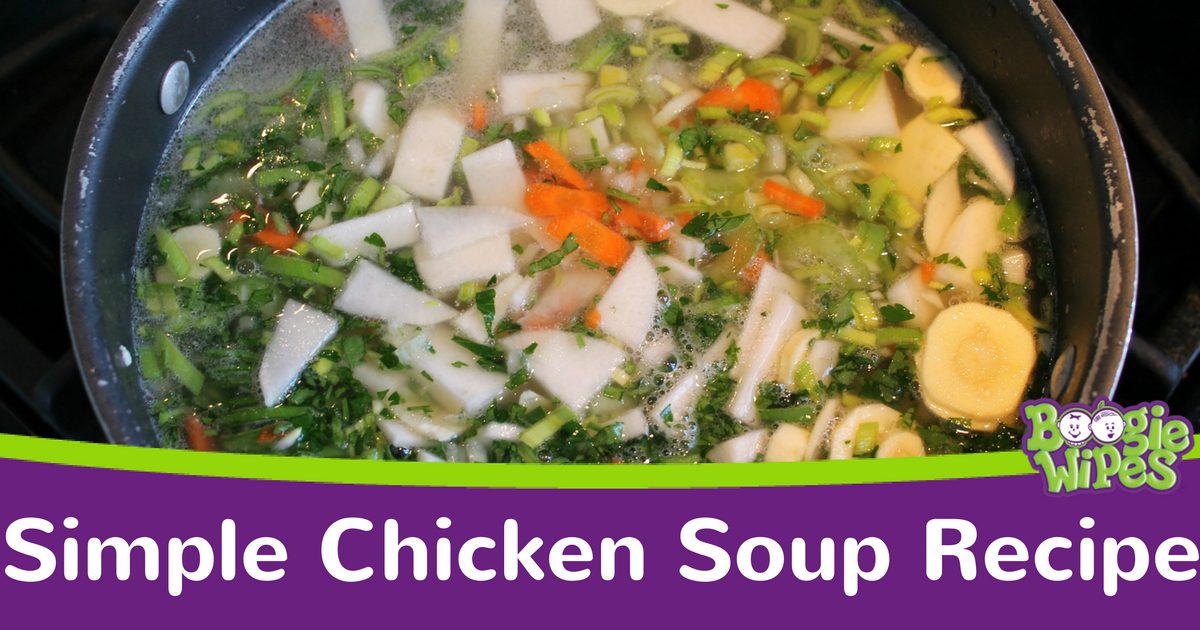 Not Feeling Well? Try this Chicken Soup Recipe
If you or your kids aren't feeling well, this simple chicken soup recipe might be just what the doctor ordered. With onions, celery, carrots, chicken and egg noodles, this healthy chicken soup recipe is loaded with the vitamins and minerals your body needs when you're feeling sick.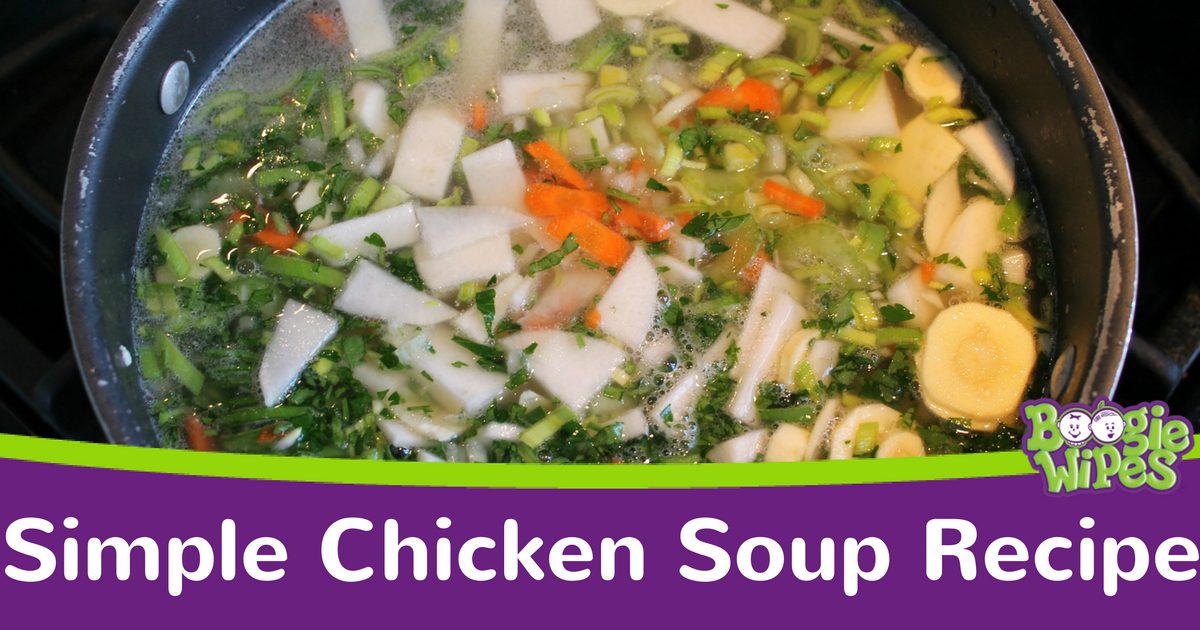 Why Chicken Soup Helps You Feel Better
In soup made with chicken meat and bones, there is zinc, calcium, phosphorus, and magnesium, all of which come from the bones when it is boiled to make stock and broth. What do these elements do?
Zinc is known to have the ability to shorten colds.
Calcium is known to help strengthen teeth and bones, but the body also uses it for muscle movement. (Think about how sore your muscles can feel when you have a cold!)
Phosphorus is known to help the body create energy and to regulate the fluids in your body, which is important to avoid dehydration when you're sick.
Magnesium is also known for bone health and muscle health.
When broth is made with chicken (with or without bones) and vegetables, you get the added bonus of:
Protein, which is known for muscle and bone health.
Potassium, which is known for helping cells, tissues, and organs to function properly.
Iron, which is known for improving blood flow and helping to create energy.
Vitamin B, which is known to help with energy.
Vitamin C, which is known to support the immune system and acts as an anti-inflammatory.
Vitamin E, which is known to help cells function properly.
Bottom line: it just makes you and your kids feel better!
In addition to all of these healthy properties, chicken soup is a comfort food from our childhood that we just can't live without when we're sick. It's an emotional response: If it makes us happy, it can help us be healthy.
Simple Chicken Soup Recipe
While I'm not a chef by any means, my husband sure knows how to cook. One of his best recipes is his Chicken Noodle Soup, perfect for cold and flu season (plus, the kids and I just really love it!).
This recipe is great because it's easy to make, has all of the healthy benefits, and makes enough so that you can enjoy it now or freeze it for later.
Note: It is recommended that you prepare the noodles separately since they can overcook when prepared with the soup and get mushy.
Ingredients
1.5 lbs chicken breast (can be with or without bones)
2 Tbsp salt
1 leek, chopped
1 cup chopped onion
1 potato, chopped
1 cup chopped celery
1 cup chopped carrots
1 rutabaga, chopped
1 cup chopped parsnip
1 cup chopped fresh parsley
8 cups chicken broth
1 package extra wide egg noodles
Salt
Pepper
Place chicken in a pot and cover with water. Add salt. Bring to boil until chicken is cooked (about 20 minutes)
Remove chicken from water and remove bone. Chop chicken. Set aside.
Add vegetables and chicken broth to the stock. Bring to a boil. Simmer for 30 minutes.
Meanwhile, prepare noodles in a separate pot according to directions on package. (Note: You can make the entire package or make as much as you will need for a few bowls at a time.)
Add chicken to the pot of vegetables and broth. Add salt and pepper to taste.
Dish out soup, adding a half cup of noodles to each bowl. Sprinkle with Parmesan cheese if desired.
All of the vegetables in this recipe plus the stock made from chicken makes it a very healthy and tasty soup to have during cold and flu season.
Looking for More Comfort This Season?
If you're feeling under the weather, be sure to have plenty of Boogie Wipes® saline nose wipes around to catch coughs and sneezes. Unlike other wipes, Boogie Wipes® saline nose wipes have no harsh or drying chemicals. The natural saline dissolves mucus without irritation – thanks to Vitamin E, Aloe and Chamomile.
Even better? Boogie Wipes® saline nose wipes contain no alcohol, no chlorine, no parabens and no phthalates.
Click here to learn more about the power of natural saline.
Save on Boogie Wipes® Products
Having sick kids is never fun. Luckily, Boogie Wipes® products are all-natural and soothe even the smallest of noses. Download a coupon and start feeling better today.
Meet the Author
Marissa is the writer behind Mommy Knows What's Best. Her goal is to help make your parenting life a breeze as she shares her own experiences with her three kiddos, who keep her on her toes at all times. In sharing what works best for her family, she hopes that you can find what works best for your family.
Visit Mommy Knows What's Best for parenting tips, family fun, product reviews, fun giveaways, recipes, and much more!
Follow Mommy Knows What's Best on Twitter, Instagram, and YouTube.