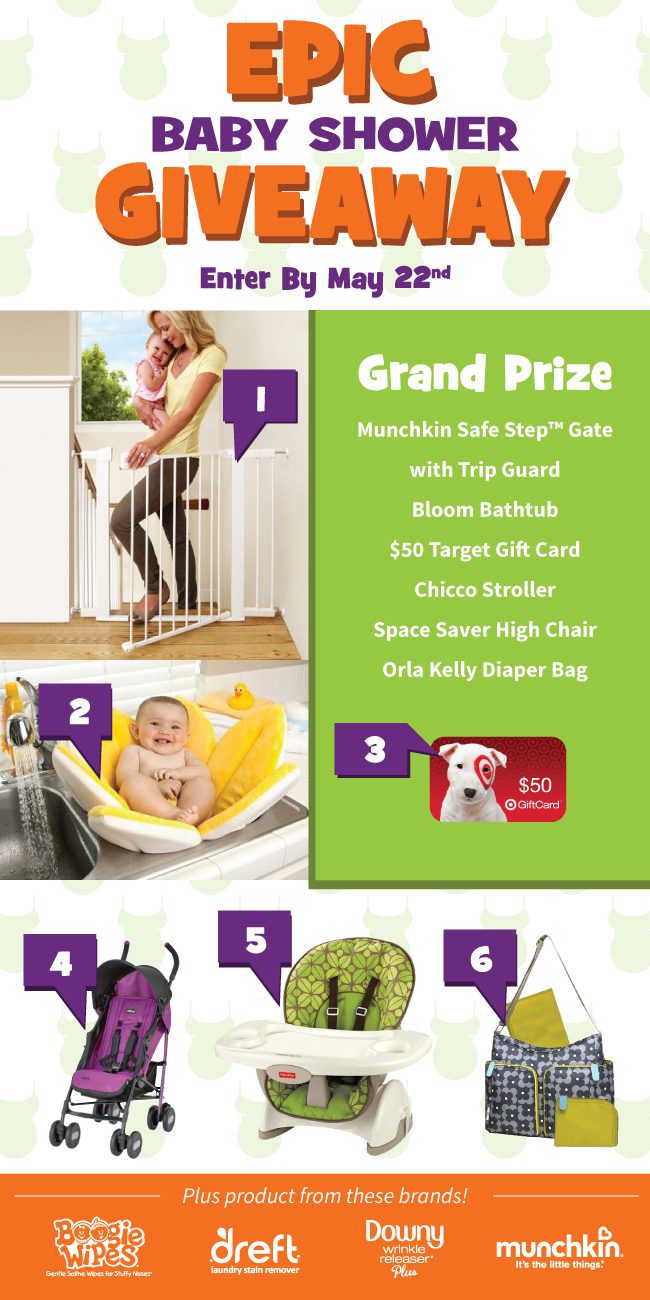 Epic Baby Shower Giveaway
We're teaming up with some of our favorite brands and bloggers to bring you an EPIC baby shower giveaway!
One lucky winner will take home the following prizes:
One (1) Munchkin Safe Step Gate with Trip Guard
One (1) Bloom Bathtub
One (1) $50 Target Gift Card
One (1) Chicco Stroller
One (1) Space Saver High Chair
One (1) Orla Kiely Diaper Bag
PLUS products from Boogie Wipes, Dreft Home and Downy Wrinkle Releaser Plus!
Must-Have Products for New Moms!
If you're a mom, there are a few products that we think you'll love.
From keeping your highchair squeaky clean to getting stains out of onesies and bibs, Dreft Home products are on every mom's must-have list. Click here for a coupon.
If you're a new mom, ironing probably isn't your top priority. Downy Wrinkle Releaser Plus to the rescue! Just spray, tug and wear. Put that iron away, and grab the spray. Click here for a coupon.
Kids and moms alike love Boogie Wipes. They're gentle enough for the most sensitive skin – and they're also a great way to wash your face. (Not that new moms would be too tired or busy to wash their faces Ahem.) Click here for a coupon.
And – of course – every mom loves Munchkin! Munchkin seeks to rid the world of tired and mundane products. They develop clever solutions that make parenting safer, easier and more fun. Because as parents know, it's the little things that make the biggest difference. Click here to learn more.
All of these great brands can be found at Target!
Enter to Win
Entering the giveaway is easy! Simply complete the form below.
Giveaway ends at Midnight on Friday, May 22, 2015. One winner will be randomly chosen and notified on Saturday, May 23, 2015.