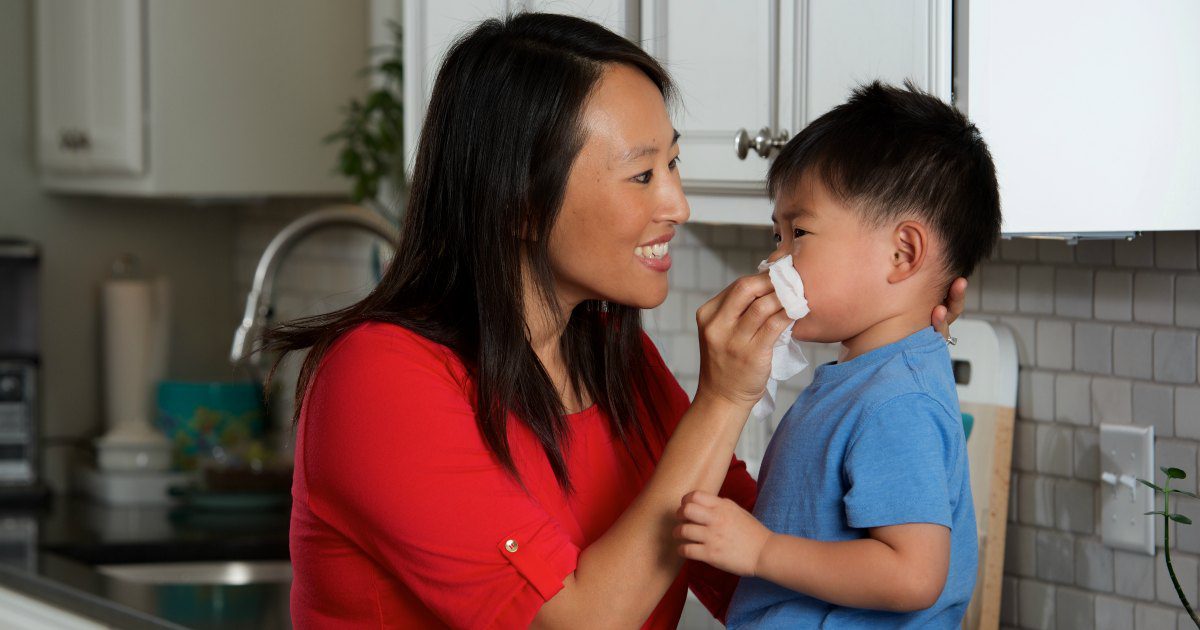 Why Parents and Professionals Love Boogie Mist
Have you heard about Boogie Mist® saline mist yet? Boogie Mist® saline mist is the powerful sidekick to Boogie Wipes® saline nose wipes – and it's something you (and your kids) are going to love.
What is Boogie Mist® Saline Mist?
Boogie Mist® saline mist is a non-medicated sterile saline mist that works quickly inside the nasal cavity to ease congestion caused by boogers that won't budge.
From helping you feel more comfortable when you have an upper respiratory infection (like the common cold) to helping to reduce coughing and even helping with snoring, using a saline mist on a daily basis has a lot of benefits.
Our Most Important Ingredient Is Natural Saline
When used in the right concentration, all-natural saline excels at breaking up and thinning mucus. And when used as a saline mist, it can help keep your nasal passages healthy and comfortable when you have allergies or a cold, it can help minimize coughing and can even help with snoring.
Click here to read more about the importance of all-natural saline.
Will My Kids Use Boogie Mist® Saline Mist?
There are several reasons why it makes a lot of sense for your kids to use a saline nose spray every day.
But if your kids are like most kids, they don't really care about the benefits of squirting natural saline into their noses. They just know that they don't want to do it.
Which is why we found a solution to that little problem. We call Boogie Mist® saline mist the "Mist with a Twist" because kids want to use it.
What's our secret?
The applicator tip, a.k.a. Schnozzle™ is scented in Fresh and Grape scent. We made it for the kids, but we won't tell anyone if you use it too.
A Boogie Mist® Saline Mist Routine for Kids
Follow these simple steps to have your kids well on their way to more comfortable nasal passages and fewer boogers to spread on the wall.
1. Have them Blow First
Pass the Boogie Wipes® saline nose wipes, and encourage your kids to blow their nose before they use the mist. (Click here for instructions on how to teach your child to blow his nose.)
2. Teach Them How to Use It
Show your kids how to use a finger to close one nostril, and spray Boogie Mist® saline mist in the other nostril. After they spray, they should inhale gently through their nose.
Quick tip: If they take a big inhale after spraying, they might get some mist in their throat – which is never fun. We recommend three little inhales after each squirt.
Then repeat on the other side.
3. Make it a Routine
Keep a bottle next to the bathroom sink or next to their beds so using Boogie Mist® saline mist becomes part of their daily routine. Maybe they do it every morning or night after they brush their teeth. Maybe they do it every night as they're getting into bed.
It doesn't matter when they do it, but making Boogie Mist® saline mist part of your child's daily routine will help you (and your child) maximize the benefits.
4. Don't Share
Grab your Sharpie and write your child's name on their Boogie Mist® saline mist. This is one time when sharing is not allowed.
5. Start Early
Start your kids on a saline routine when they're babies by using Boogie Drops® saline nose drops.
These saline nose drops are specifically designed for infants age 0-2, featuring a specially designed tip for controlled dropping and easy dosage control.
The dropper is also a smaller size, making it easier to use with tiny noses. Click here to learn more.
Boogie Mist® Saline Mist: Loved by Parents, Recommended by Professionals
Dr. Ali Heffernan is a mom and pediatrician who not only uses Boogie Mist® saline mist with her own kids, she recommends it to her patients as well. Watch the video below to hear why.
Save on Boogie Mist® Saline Mist
Having sick kids is never fun. Luckily, Boogie Wipes® products are all-natural and soothe even the smallest of noses. Download a coupon and start feeling better today.
Pin It!