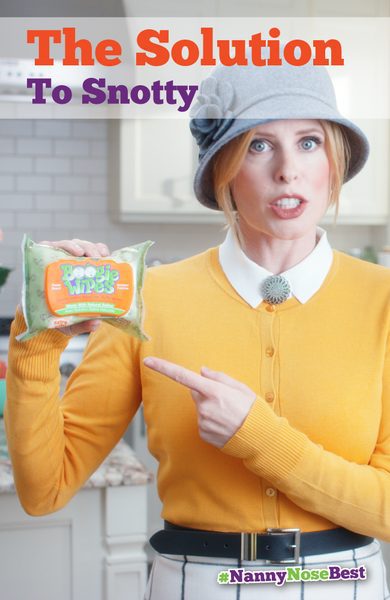 #NannyNoseBest Solution to Snotty
The Solution to Snotty
While we may not be able to help you when your kids act snotty, our resident Nanny definitely has solutions when it comes to snotty little noses. Watch our video to learn more.
#1 – Use Boogie Wipes® Saline Nose Wipes
Experienced moms and nannies will be the first to tell you that nothing soothes noses better than Boogie Wipes® saline nose wipes.
Tissue, paper towels, or even your sleeve are savage on a little one's skin – especially when you're wiping 20, 30, or even 40 times per day.
Unlike other wipes, Boogie Wipes® saline nose wipes have no harsh or drying chemicals. The natural saline dissolves mucus without irritation – thanks to Vitamin E, Aloe and Chamomile.
#2 – Tell Your Friends
Don't keep this secret to yourself. Tell your friends so they can experience the comfort of Boogie Wipes® saline nose wipes this season. Click here to spread the word on Facebook by sharing our video.
#3 – Repeat 1 and 2
Look – kids are going to get sick. They're kids afterall. Prepare yourself for the worst, and provide them with the best – Boogie Wipes® saline nose wipes. Click here to download a coupon now.
Like this? Pin it!