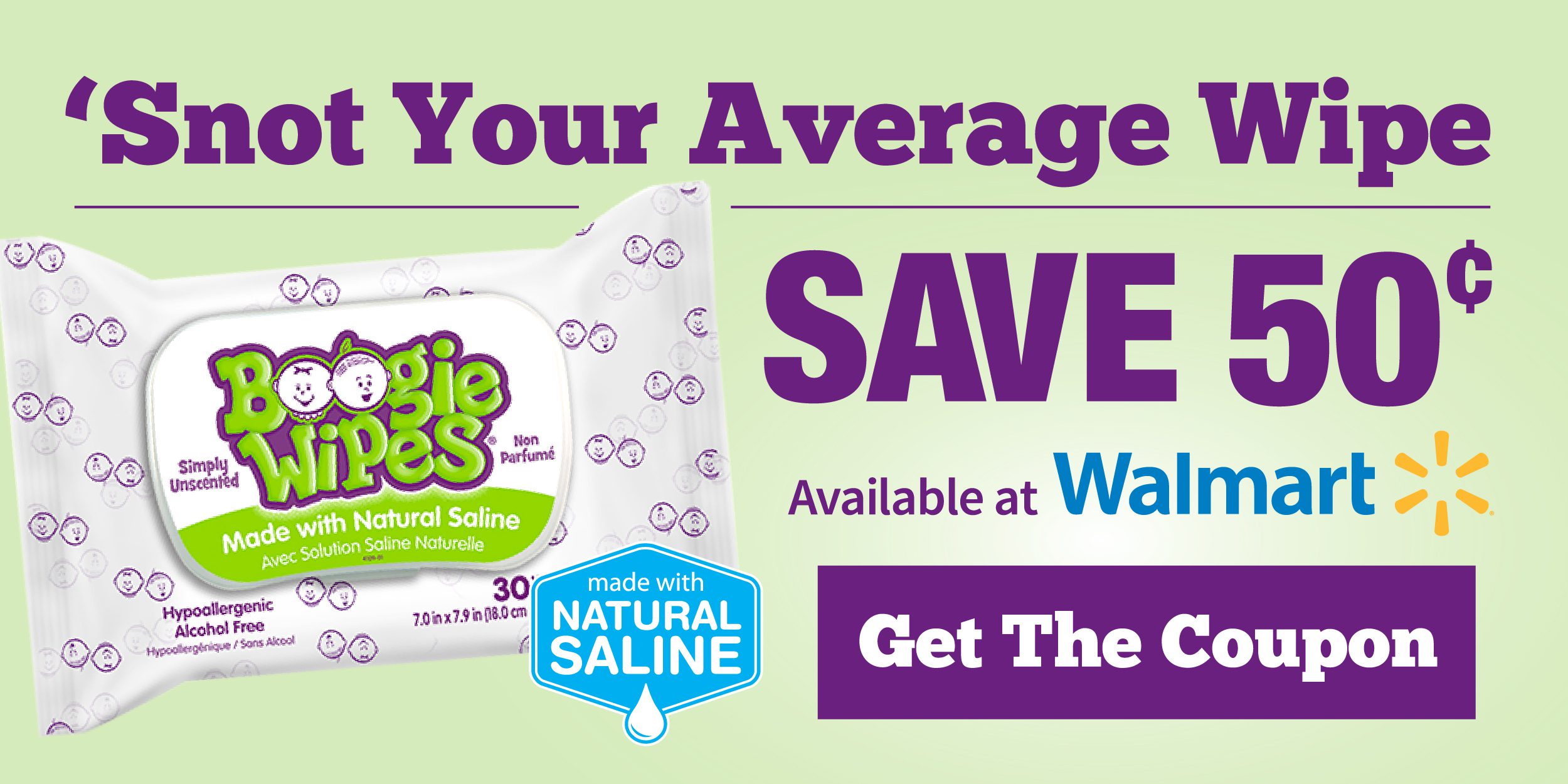 Stock up on Boogie Wipes at Walmart
Cold and flu season is here, which means runny noses, sneezing, congestion and coughing… YUCK!
While we can't cure your cold, we CAN soothe your sore nose! 
Made with natural saline, aloe, chamomile and Vitamin E, Boogie Wipes® saline nose wipes are your best defense against red, raw and chapped noses.
Why Do Boogie Wipes® Saline Nose Wipes Work So Well?
It all comes down to our natural ingredients.
When used in the right concentration, all-natural saline excels at breaking up and thinning mucus.
When infused into a moist wipe like Boogie Wipes® saline nose wipes, saline makes it easier to wipe away mucus, while remaining gentle enough to comfort stuffy noses. Because saline is natural and hypoallergenic, it can soothe even the most delicate skin and reduce irritation.
Add in Aloe, Chamomile and Vitamin E, and you have a soft, soothing wipe that won't leave your nose red or raw.
What Did We Leave Out?
Just as important as what we put into Boogie Wipes® saline nose wipes is what we chose to leave out.
Unlike other wipes, Boogie Wipes® saline nose wipes have no harsh or drying chemicals – like alcohol or chlorine. Leaving these ingredients behind means that Boogie Wipes® saline nose wipes are soothing to the most sensitive skin – even when you're wiping 20, 30 or even 40 times a day.
Don't Take Our Word for It…
Visit Walmart.com and see the 5-star reviews from nearly 300 moms, like Erappa who says, "My baby has such sensitive skin. This product works great for keeping her face fresh and clean without harsh chemicals."
cmil512 agrees! "If you have EVER tried to wipe the runny nose of a sick child you already know what a job it can be 🙁 These wipes are perfect….they are SUPER soft and make the job a bit easier (and cleaner) The saline helps to get the "sticky" stuff and helps to prevent the horrible soreness that comes along with colds and multiple nose wiping! I keep some at home, in the car AND in the baby bag!!!"
And FlowerMom notes the importance of soothing red and irritated noses with Boogie Wipes. "We love this wipes. Our kids get colds and red runny noses. They get red and hurt when wiped with other tissues, but Boogie wipes are soft and have saline that not only help with red sore noses but help protect and prevent as well."
Stock Up Now
Our best tip for cold and flu relief is to visit Walmart.com or head to your local Walmart store to stock up on Boogie Wipes® saline nose wipes before you need them.