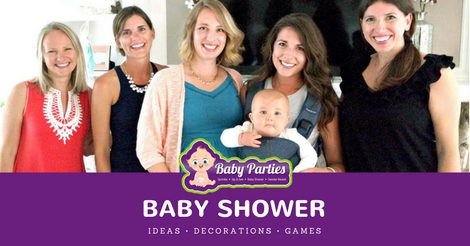 How to Host and Attend a Baby Shower
Baby showers are a fun way to celebrate mom and shower her with gifts for her baby. We're sharing some of our favorite baby shower ideas, fun decorations, simple party favors and games.
Baby Shower Hosting, Food and Decor Ideas
Typically, baby showers are hosted by close family or friends of the mom-to be.
If this is your first time hosting a baby shower, don't sweat it! You can keep things simple and festive, making sure all of the attention is on the mom-to-be.
Decorate onesies with month stickers and create a clothesline of onesies (that the mom-to-be can keep after the shower). Our monthly stickers are from the Dreft® Loads of Joy™ Gift Set.
Food can be as simple as some finger foods and refreshing beverages. Depending on the time of day that you choose to host a shower, you may not have to serve a full meal.
Keep in mind that baby showers are a time for the mom-to-be to shine, so be sure to have her sit front and center during the shower.
BABY SHOWER GAMES
If you've ever been to a baby shower, then chances are you've heard someone complain about baby shower games.
Keep the games very simple. Everyone can go around the room and offer one piece of advice to the mom-to-be. (Or maybe make it a bit more exciting, and everyone can give their WORST piece of advice to the mom-to-be.)
One super simple game is to have everyone write their best guess for when the baby will arrive on a dry-erase calendar.
BABY SHOWER GIFTS
Usually the mom-to-be registers for a baby shower, so you know exactly what she needs before the baby arrives. But it can be a lot of fun to grab something off the registry too, especially if you know the mom-to-be well.
Whether she's registered for it or not, the Dreft® 6-Piece Loads of Joy™ Gift Set is perfect for new moms. The gentle yet effective detergent, stain remover, all-purpose cleaner, stain remover pen, in-wash scent booster keeps everything fresh and clean. As an added bonus, it also includes cute monthly stickers for the baby and a "Loads of Advice" booklet for new parents.
Click here to purchase on Amazon.
Need some more ideas? We love these baby carriers from our friends at Baby Bjorn.
Want to take things one step further? Grab your favorite items for motherhood and gift them to your friend. Write a little note so she knows why you consider these your MUST HAVE items for the baby!
Have FUN!
Whether you're hosting your first baby shower, attending your first baby shower, or you're the mom-to-be, remember to have fun and enjoy celebrating the joys of motherhood.
LEARN MORE ABOUT OUR BABY PARTIES
From Baby Showers to Sprinkles, Sip & See Showers and even Gender Reveal Parties, we're helping you host and attend every baby party you can think of. Use the links below to learn more about how to host each type of party, a unique way to learn the gender of your baby, the perfect gifts for every event, and the one thing you really need at a Sip & See (besides a baby).
Like it? Pin it!