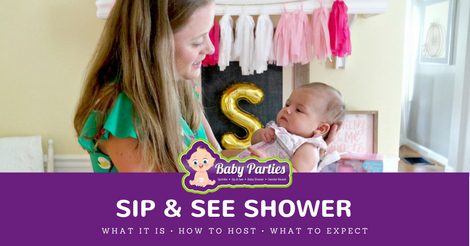 How to Host and Attend a Sip & See Shower
Whether it happens days, weeks or even months after your baby is born, a Sip & See Shower is the perfect way to introduce your newest addition to friends and family. From party ideas to proper etiquette, brunch and food ideas, and even fun decorations and simple party favors, we're sharing our best Sip & See party tips.
WHAT IS A SIP & SEE?
A Sip & See is a party held after the birth of a baby to introduce the little one to friends and family members. It's usually a more casual event than the baby shower (with new parents often hosting it themselves), and it can be a fun way to celebrate a child's arrival.
HOW TO DECORATE FOR A SIP & SEE
The great part about a Sip & See is that the baby is usually the main "decoration." Some simple flowers and paper lanterns can make a nice finish to the main attraction.
WHAT TO SERVE AT A SIP & SEE
After the baby, the next most important aspect of a Sip & See are beverages! You can offer champagne, sparkling water or coffee for guests to "sip" while they meet the baby.
The menu can be just about whatever you want as most people are not coming for the food. To keep things simple, try offering a yogurt bar with some fun toppings and a few pastries.
WHAT TO EXPECT AT A SIP & SEE
While you can certainly play games at a Sip & See party, the main game people will want to play is "pass the baby."
Be sure to have lots of Kandoo Foaming Handsoap on hand to encourage all guests to wash up before holding the baby.
You may also want to have a bouncer available (like this one from our friends at Baby Bjorn) in case your baby needs a break from being held.
GIFTS TO BRING TO A SIP & SEE
Sip & See Showers offer a great opportunity for guests to bring personalized gifts for your baby – since you already know the baby's name and gender.
If you like to keep things simple, try to think of things that mom will need or want – a helpful gift card, nice hand and body lotion, or even Downy Wrinkle Releaser Plus. Busy moms usually don't have time to iron and, thanks to Downy Wrinkle Releaser Plus, she won't need to. Click here for a coupon.
And, of course, it's always a great opportunity to give a Dreft® 6-Piece Loads of Joy™ Gift Set. Perfect for new or experienced moms, the Dreft Loads of Joy Gift Set tackles the laundry needs of the new arrival.
The gentle yet effective detergent, stain remover, all-purpose cleaner, stain-remover pen, in-wash scent booster keeps everything fresh and clean. As an added bonus, it also includes cute monthly stickers for your baby and a "Loads of Advice" booklet for new parents. Click here to purchase on Amazon.
LEARN MORE ABOUT OUR BABY PARTIES
From Baby Showers to Sprinkles, Sip & See Showers and even Gender Reveal Parties, we're helping you host and attend every baby party you can think of. Use the links below to learn more about how to host each type of party, a unique way to learn the gender of your baby, the perfect gifts for every event, and the one thing you really need at a Sip & See (besides a baby).
Like it? Pin it!