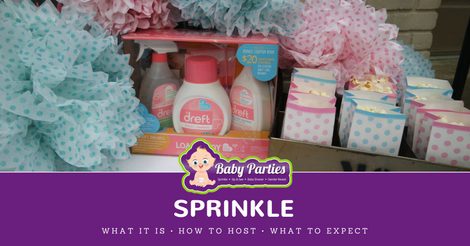 How to Host and Attend a Sprinkle Shower
Are you thinking about hosting a Sprinkle for a friend, or have you been invited to a Sprinkle Shower? Or are you just wondering what a Sprinkle party is all about? We're sharing our favorite ideas to host a DIY Sprinkle party, plus what to expect if you're invited to one.
WHAT IS A SPRINKLE?
A Sprinkle is a baby shower that is held to celebrate the upcoming arrival of a second, third, fourth, or fifth (you get the idea) child. It's usually a little more relaxed than a traditional baby shower, with a heavy focus on celebrating mom and giving functional gifts. Older siblings are sometimes included.
WHAT TO EXPECT AT A SPRINKLE
Sprinkles are usually about pampering mom. You might go out to dinner as a group, meet at a salon for pedicures or have a grill-out that includes the entire family.
Traditional baby shower games are rarely played at Sprinkle parties. Instead, it's a chance to spend time with the mom-to-be before the new baby arrives.
WHAT TO BRING TO A SPRINKLE
Sprinkle gifts are all about function!
An assortment of products for the entire family is a great way to help mom prepare for another child.
Kandoo Flushable Wipes can help mom get an older sibling potty-trained before the baby's arrival, while Kandoo Foaming Handsoap will be crucial in keeping big brother's or big sister's germs away from the baby. Kandoo offers a variety of products that helps kids learn to stay clean all on their own.
Boogie Wipes® saline nose wipes can soothe the snotty noses of older siblings and are also gentle enough to use on the baby. Boogie Wipes®' sidekick, Boogie Mist® saline mist, can be used simultaneously as a gentle saline mist for all ages.
And every mom needs Downy Wrinkle Releaser Plus to keep herself wrinkle-free – even when she's covered in kids.
The Dreft® 6-Piece Loads of Joy™ Gift Set is perfect for experienced moms. The gentle yet effective detergent, stain remover, all-purpose cleaner, stain remover pen, in-wash scent booster keeps everything fresh and clean. As an added bonus, it also includes cute monthly stickers for the baby and a "Loads of Advice" booklet for new parents.
Click here to purchase on Amazon.
UNIQUE SPRINKLE GIFTS
Looking for a unique and personalized Sprinkle Gift for the mom-to-be?
Purchase a plaque from your local craft store, and put older siblings' handprints on it. Be sure to leave a space in the middle for the new baby's when he or she arrives.
This can hang in the nursery and be a great reminder of bringing home the new baby.
Not feeling quite as crafty? Purchase a book for the new baby, and have all of the sprinkle guests sign it. It will be a functional keepsake for the entire family.
LEARN MORE ABOUT OUR BABY PARTIES
From Baby Showers to Sprinkles, Sip & See Showers and even Gender Reveal Parties, we're helping you host and attend every baby party you can think of. Use the links below to learn more about how to host each type of party, a unique way to learn the gender of your baby, the perfect gifts for every event, and the one thing you really need at a Sip & See (besides a baby).
Like it? Pin it!